Sarah Munro's primary concern is environmental degradation through species and habitat loss, pollution and deforestation. With colonisation came the introduction of an ideology* that locates humanity as the dominant species. The resulting practice enacted within this paradigm places humanities requirements and progression as the central prerogative.
Sarah Munro's ongoing Trade Items series consists of meticulously embroidered works that reference a 1769 watercolour and pencil drawing by Tahitian high priest and master navigator Tupaia of Ra'iātea. The drawing records the exchange of a large crayfish for a length of cloth and is noted to have occurred in the early weeks of James Cook's first survey of Aotearoa. Employing the use of repetition and substitution Munro's series of hand-sewn works, euphemistically titled 'Trade Items', are not historically accurate illustrations but rather contemplations in cloth and thread of the ongoing repercussions of this inceptive trade.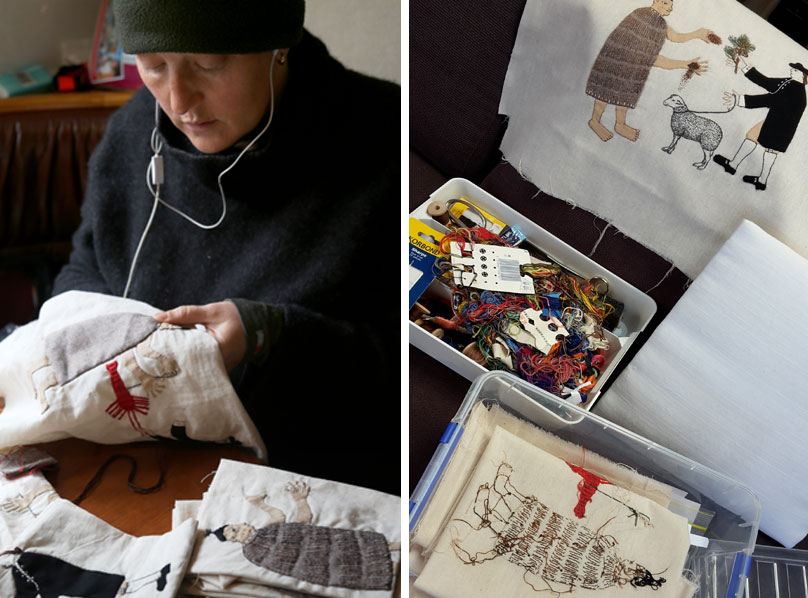 Munro locates her work by selecting items of trade that denote environmental issues pertinent to Aotearoa. Within this series Munro swaps out the original articles of trade and the central figures in the narrative instead exchange a succession of introduced and endemic flora, fauna and objects of contemporary manufacture. Amongst Munro's traded items, reproduced in embroidered miniature, are botanical drawings from Joseph Banks Florilegium and travel journals; natural history illustrations from botanical artists such as Sarah Featon, Nancy Adams, Walter Fitch and Georgina Burne Hetley; birds of New Zealand by Walter Buller; New Zealand stamps, story books, museum online collections and Google image searches.
Sarahs choice of materials and method is couched in lauguage borrowed from feminist art history. Made using a process associated with the concept of 'the fairer sex' these deceptively decorative works are quietly provocative and sharply political. "While a ship is usually referred to as a 'she', the seafaring superstition of Cook's time was that a woman on board was unlucky, could result in an angry sea and put the crew in peril. The women had to stay home. We don't appear in the central heroic narrative of Cook's 'adventures'."
* "Do you also see a land ravaged by the impact of introduced ideologies; Imperial, colonial, racist and economic" Natalie Robertson (Ngāti Porou, Clann Dhònnchaidh), Through New Eyes, EDS 2019 Conference: 14-15 August 2019, Session 9 – The future of the East Cape. @11:56min)
---
Sarah Munro (b. Kirikiriroa, Aotearoa) received a Doctorate in Fine Arts at Elam School of Fine Arts at the University of Auckland. Munro has been the recipient of artist residencies including the Frances Hodgkins Fellowship at the University of Otago and her work is represented in public and private collections. Sarah Munro is represented by Page Galleries.
---
Work Prior to Trade Items series:
Sarah Munro's work engages with the relationship between painting, representation and technology. Her paintings are developed directly from CAD (Computer Aided Design) drawings exploring the geometric vernacular that is fundamental to this software. Munro's work considers a painting as an object within the continuum of manufactured and pigment coated objects. The formal conventions from both minimalism and product design software are recombined and the painted forms produced with machine milling, fibreglass lamination and an automotive paint system. Using the geometric forms of minimalism, with a repeated emphasis on the polygon shape, the work plays off distinctions between the real with the virtual. Fictitious shadows and highlights generated within the software are rendered across their 3D fibreglass supports so that, when finished, they seem to represent their counterparts drawn within the digital environment.
Sarah Munro's paintings; painted surfaces over custom made three-dimensional supports, intentionally engage with spatial concerns usually attributed to sculpture while maintaining a dialogue with traditionally two-dimensional concerns such as the pictorial conventions used to represent light or draw three dimensional forms. Recent works include specific elements that have been designed in relation to the architecture of the gallery space the work will occupy. Prior artwork has been discrete and contained within the physical limits of the art object but the work made for the exhibition 'Surface Detail' took on a more intentional relationship with the surrounding architecture. The viewers attention was lead from the surface of the work, back to the wall surface the paintings were hung on, to the specific shape and orientation of the architecture. Making use of CAD's geometry and pictorial illusions that simulate perspective, it borrowed some of these pictorial conventions to generate a disjunctive relationship between the painted object and the gallery space; as if the work, with its emphasized artificiality, exists within a slightly different spatial environment to the room itself.